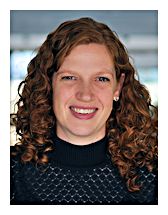 A palace in time: Shabbat by Heschel
Tali Melchior, Copenhagen / Denmark
Language: English

Session:
Together we will read an excerpt from the book "The Sabbath" by Rabbi Abraham Joshua Heschel, and discuss the meaning of shabbat, it's purpose and place in our lives as people seeking meaning and inspiration in modern life.
---
Bio:
Tali Melchior was born in South Africa, raised in Israel and is now living in Copenhagen, together with her husband Jair Melchior and their 3 children.
In Israel Tali worked as a history teacher. Currently she is studying an MSc. in Software Development at ITU, and has a weekly shiur for women in Jewish Philosophy at DJS.


---