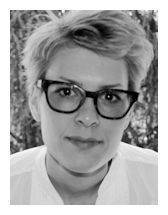 Haver Srbija- why teaching Jewish subject to non Jews creates more tolerant society?
Sonja Viličić, Belgrad /Serbia
Language: English

Session:
You might know that haver in Hebrew means a friend. Did you know that in Hungarian and Bosnian slang it has the same meaning? During this session we will explore the work of Haver Srbija, an NGO that through Jewish education for non Jews confronts prejudices, anti-Semitism and all types of discrimination. We will also discuss what Serbian reality is in terms of respecting diversity in the society and why we think that our responsibility as Jews is to stand up and protect all those who are discriminated.
---
Bio:
Sonja Viličić was born in Serbia. For almost 10 years Sonja lived in Budapest where she finished University and worked for the J.D.C. (Joint Distribution Committee) in various positions as informal Jewish educator, including the program director of the Szarvas youth camp and the Educational Director of regional programs with the aim of Jewishly educating youth and students through informal educational frameworks. Sonja is a graduate of the Melton Senior Educators Program at the Hebrew University of Jerusalem.
Today, Sonja lives in Belgrade, Serbia where she is one of the founders and Executive Director of NGO Haver Srbija whose aim is to introduce non-Jewish population to culture, history and tradition of Jewish people as a step in confronting prejudices, misconceptions and discrimination. She also works co-runs the Matara youth leadership training program of the Rothschild Foundation (Hanadiv) Europe at Limmud UK.


---