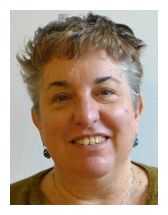 Who Shall I Say is Calling?
The Torah of Leonard Cohen
Rebecca Lillian, Malmö /Sweden
Language: English

Session:
To paraphrase the journalist Jonathan Freedland, Robert Zimmerman became Bob Dylan and Carol Klein became Carol King, but Leonard Cohen always remained Leonard Cohen. The message of his songs, poetry and narratives were universal in nature, but they were deeply Jewish in tone.
Together we will explore the Jewish spiritual lessons of Leonard Cohen's music.
---
Bio:
Rebecca Lillian believes that celebrating diversity is the best way to build strong communities, be they Jewish ones or general ones. The rest is commentary. Let's go and study together.


---