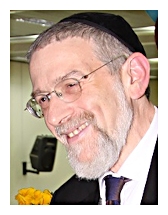 Peace in Israel and Palestine – a project of the past or the future?
Michael Melchior, Jerusalem /Israel
Language: English

Session:
While everybody seemingly has despaired around attempts for peace,I will give a realistic analisys of 2017 as a good chance for a breakthrough in the peace efforts. Religion will be on the front line of peace making instead of being an obstacle and the closed opportunities will prove to open new and exciting challenges.
---
Bio:
Michael Melchior serves as the Chief Rabbi of Norway and as rabbi of an orthodox community in Jerusalem.
1999-2009 served as MK in roles including Minister for Social Affairs and World Jewry; Deputy Minister of Education & Culture; and Deputy Minister of Foreign Affairs He is an internationally renowned Jewish leader, thinker and activist and a leading advocate for social justice in Israel (CAF), interfaith dialogue (Middle East Religious Peace Initiative) and a voice for peaceful co-existence. His father, son and daughter in law are teaching at Limmud this year, as well.


---