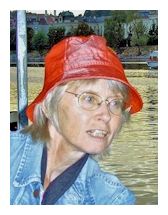 The Jewish Annotated New Testament, part 2: Always Something to Discuss
Ellen Miriam Pedersen, Copenhagen / Denmark
Language: English

Session:
A collective of mainstream US academics have read and annotated the New Revised Standard Version of the Christian key texts.
This talk will focus on John vs. John: How Jewish is the Gospel of John, and how Christian is the Revelation to John?
---
Bio:
Ellen Miriam Pedersen, to a point, works in inter-religious understanding. There is a Judaic aspect in all her writing, whether stories, poems, or non-fiction. Her history assumes materialism. She is a linguist with a diploma in classical Hebrew.


---