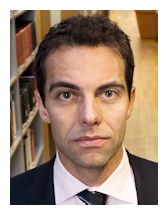 Gaza under Hamas - Politics and Everyday Life
Björn Brenner, Stockholm /Sweden
Language: English

Session:
Drawing on extensive fieldwork from inside the Gaza Strip, Björn Brenner tells the story of what has happened in the coastal territory since Hamas seized power and what everyday life can be like under Islamist rule. The lecture is based on hard-to-secure interviews with a wide range of different people in Gaza, including key political figures in the Hamas administration and members of the now more quiescent Fatah party led by Mahmoud Abbas.
Björn offers a new interpretation of one of the most powerful forces in the Israel-Palestine arena, revealing how Hamas is thinking about the future and why its Islamist ideals will continue to come second to further power consolidation.
---
Bio:
Björn Brenner is Lecturer at the Swedish Defence University in Stockholm and Research Fellow at Institut francais du Proche-Orient in Amman, Jordan. He holds a doctorate in Peace and Development Studies from the University of Gothenburg and an MA in Political Science from Uppsala University.
Björn is the author of numerous articles on Palestinian politics and a frequently appearing commentator in the media on Middle Eastern affairs.


---